The A-Team



Name

Aチーム

Function

Fan Club for Mikado Akira

Leaders

Alternate Name

神門玲FC (Mikado Akira FC)

In 1972, a crack commando unit was sent to prison by a military court for a crime they didn't commit. These men promptly escaped from a maximum security stockade to the Los Angeles underground. Today, still wanted by the government, they survive as soldiers of fortune. If you have a problem, if no one else can help, and if you can find them, maybe you can hire... the A-Team.
That will be a different A-Team, though.
Description
Edit
Tenchi Academy's A-Team, on the other hand, is the hapless, yet highly-organized and heavily-devoted fan club of Mikado Akira. The A-Team is headed by D-rank swordbearer Kikkawa Tsukasa and her shinyuu Hotei Tomo. An unsubstantiated rumor holds that its original founder was Kikkawa's cousin, Himuro Meiko.
Most A-Team members wear glasses. The majority are general students, not swordbearers.
Endeavors
Edit
The A-Team is named and shown (as imagined by Kamijou Maki) in silhouette, though this bears no resemblance to the actual outfit (102).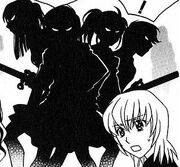 A-Team operatives witness Hayate (in a duck suit) striking Akira with her backside. They move to report this incident to "Number Zero." The scene shifts to Meiko receiving a note, though this turns out to be a challenge letter from Someya Yukari (138-139).
The A-Team appears throughout the volume, kidnapping Miki in an attempt to force Hayate out of Tenchi, then competing and being badly beaten in a massive Hoshitori battle against Hayate, Ayana, and others.
Following these exploits, the A-Team is officially dissolved. Inori Sae, in reporting this to Meiko, mentions the rumor that she is the fan club's founder and its "Member Zero," which Meiko denies (136-137).