Home
Talk

0
30pages on
this wiki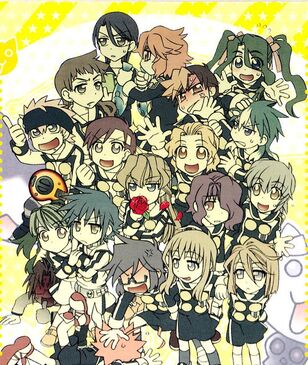 Wiki for Idiots!
Edit
It all began when Kurogane Hayate was asked by her family to pose as her injured twin sister Nagi, who had enrolled at a prestigious academy and would lose her place there is she couldn't go to school. Of course, this is no ordinary school. This is Tenchi Academy, known for its sword bearer program where girls pair up and face off in sword fighting matches for money and fame. Having taken kendo along with her sister, Hayate is pretty sure that she'll be able to lay low until her Nagi gets better.
But all of that becomes void when Hayate discovers that the orphanage that adopted her in her youth has been in debt for years. Knowing that she can win money by swordfighting, she jumps into the action and proceeds to leave her mark on nearly everyone she meets, changing both them and herself for the better. With the aid of light hearted comedy, swordfighting action, and the occasional dramatic or sweet moment.
Warning! There are lots of spoilers in this wiki, so be warned. To provide information on what the characters do and accomplish, as well as explain their personalities, it's hard not to have any spoilers.
Idiots Describe Their Topic
Edit
This is a wiki about the manga Hayate X Blade, written and illustrated by Hayashiya Shizuru. It is currently being serialized in Ultra Jump, and is now into its sixteenth volume, which is not done yet. Sadly, only the first nine volumes have been translated into English, and only the first six were done by an actually company. Because of this, I have had to read many reviews and comments from others to understand what goes on after volume nine, as well as looking at RAWs. If you see any information that is wrong, you should obviously change it, and my sincere apologies.
Note that I say "I", because there is currently only one person doing anything on this wiki, and that is poor little old me. If you see Planterobloon or Anonymous listed as contributing, those are both me too... It's hard work, and I would appreciate help, so please, feel free to contribute worthwhile info! If you think that this wiki is kind of pointless the way it is right now, I agree wholeheartedly- which is why I need help from someone who's done more than make tiny edits to the Plants vs. Zombies wiki.
Even if it is difficult, I believe that Hayate X Blade deserves at least this much support in America. It should be way more popular than it is, and I intent to provide an encyclopedia of Hayate X Blade information for the world to see! Because although I can't claim much else, I do know a heck of a lot about Hayate X Blade. :)
Ah, well. You've heard my desperate pleas. Although I have created nine pages, added maybe ten pictures, and become an administrator all in one day, I still have a LONG way to go before this thing is even close to being done.
On a sidenote, I hope you don't mind my colloquial attitude. I find that it's easier to teach people when you speak to them than when you speak at them, or put a block of text in front of them that's aimed at no one in particular. Plus, it fits for a topic like this. I mean, what's more colloquial, funny, sarcastic, and light hearted than Hayate X Blade?