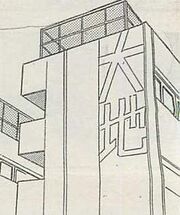 The Daichi (大地, "earth") dormitory is one of two new lodging houses Tenchi Academy's swordbearers are divided into in Hayate's second year. It represents the Kurogumi, as opposed to the old regime, represented by the Tenkuu dormitory.
As distinct both from Tenkuu and the old dormitory, in Daichi shinyuus room together.
Fubuki Hajime appointed by Amachi Hitsugi as dormitory leader for Daichi Dormitory.
Ad blocker interference detected!
Wikia is a free-to-use site that makes money from advertising. We have a modified experience for viewers using ad blockers

Wikia is not accessible if you've made further modifications. Remove the custom ad blocker rule(s) and the page will load as expected.